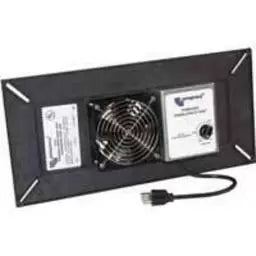 Lomanco Inc. Pcv1 Power Crawlspace Vent - Black
---
---
he Lomanco® Powered Crawlspace Vent, PCV1, is a quick and simple solution for under-ventilated crawlspaces.

Features
The PCV1 upgrades your present foundation vent and dries the crawlspace gradually. The PCV1 is made of tough polypropylene construction. A single PCV1 ventilates 1650 cubic feet.

Easy Installation
The PCV1 mounts behind an existing foundation vent for invisible operation and offers easy installation in a variety of constructions.
Lomanco® Powered Crawlspace Vent PCV-1
Quiet 110 CFM ball bearing motor.
Humidity sensor for worry free operation.
Thermostat shuts fan off at low temperatures.
U.L. approved means assured safety.
Can help stop mold growth.
Upgrades your present foundation vent.
One year limited warranty.
---
We Also Recommend